Oposisi Masyarakat Sipil Kontra Hegemoni Negara Melalui Media Sosial Youtube di Era Pemerintahan Presiden Joko Widodo
Ali Ikhwan

Universitas Indonesia

Sri Budi Eko Wardani

Universitas Indonesia
Keywords:
Hegemoni, Masyarakat Sipil, Youtube
Abstract
Di era pemerintahan Presiden Joko Widodo, negara semakin menguat vis a vis masyarakat sipil. Survei SMRC (2021) menyebutkan persentase orang yang takut bicara politik meningkat tajam dibanding 10 tahun sebelumnya. Media mainstream juga membatasi tampilnya orang-orang yang kritis terhadap pemerintah. Tapi, pada saat yang sama muncul media sosial sebagai alternatif untuk bersuara, salah satunya adalah Youtube. Dalam beberapa tahun terakhir, para aktivis politik secara rutin menggunakan Youtube untuk melakukan kritik terhadap kebijakan negara. Di pihak lain, negara bereaksi dengan berbagai macam instrumen, di antaranya membentuk yang disebut "buzzer" untuk melakukan serangan balik dan ancaman pemidanaan. Sejumlah aktivis Youtube dipidanakan karena konten yang dibuatnya. Menghadapi ancaman pemidanaan, para aktivis Youtube berusaha memproteksi diri dengan membentuk lembaga pers. Penelitian ini ingin mengetahui pola oposisi masyarakat sipil  kontra negara di era teknologi komunikasi dan meluasnya penggunaan media sosial, sekaligus ingin mengetahui bentuk-bentuk respons negara terhadap gerakan kritis masyarakat sipil melalui media sosial. Penelitian ini menggunakan teori hegemoni Antonio Gramsci untuk meneropong dialektika antara negara dan masyarakat sipil tersebut. Metode penelitian yang digunakan adalah metode kualitatif dengan sumber primer berasal dari wawancara mendalam dengan para "aktivis Youtube".
References
Anderson, B. R.O'G, (1991), Gagasan tentang Kekuasaan dalam Budaya Jawa, dalam Budiardjo, M. (ed.), Aneka Pemikiran tentang Kuasa dan Wibawa, Pustaka Sinar Harapan, Jakarta
Boggs, C. (1976), Gramsci's Marxism, Pluto Press, London
Carr, C. T. and Hayes, R. A. (2015), Social Media: Defining, Developing, and Divining, Atlantic Journal of Communication, hal. 46-65. https://doi.org/10.1080/15456870.2015.972282
Dataportal.com, Digital 2021: Indonesia, https://datareportal.com/reports/digital- 2021-indonesia. Diakses 28 Desember 2021
Dw.com, Indeks Demokrasi 2020: Indonesia Catat Skor Terendah dalam 14 Tahun Terakhir, 4 Februari 2021. https://www.dw.com/id/indeks-demokrasi- indonesia-catat-skor-terendah-dalam-sejarah/a-56448378. Diakses 28 Agustus 2021. Diakses 28 Desember 2021.
Goode, L. (2005), Jurgen Habermas: Democracy and the Public Sphere (Modern European Thinkers), Pluto Press, Northampton
Gramsci, A. (2013), Prison Notebook; Catatan-Catatan dari Penjara, Pustaka Pelajar, Yogyakarta.
Habermas, J. (1989). The Structural Transformation of the Public Sphere, (trans.) Thomas Burger, Polity Press.
Heryanto, A. (1997), Hegemoni Kekuasaan versi Gramsci, Forum Keadilan
Hendarto, H. (1993). Mengenal Konsep Hegemoni Gramsci: dalam Diskursus Kemasyarakatan dan Kemanusiaan, Gramedia, Jakarta.
Hobden, S. & Jones, R. W. (2001). Marxist Theories of International Relations dalam Baylis, John & Smith, S. (eds.), The Globalization of World Politics, Oxford University Press, Oxford.
Katadata.co.id, Kebebasan Pers Indonesia Memburuk Sejak 2020, 4 Mei 2021, https://databoks.katadata.co.id/datapublish/2021/05/04/kebebasan-pers-indonesia- memburuk-sejak-2020, Diakses 28 Desember 2021.
McKee, A.(2005). The Public Sphere: An Introduction, Cambride University, Cambride
Mujani, S., & Liddle, R. W. (2021), Indonesia: Jokowi Sidelines Democracy, Journal of Democracy, Volume 32, Number 4, October 2021, hal. 72-86. https://doi.org/10.1353/jod.2021.0053
Noor, D. (1986). Perkembangan Demokrasi Kita, dalam Demokrasi dan Proses Politik, LP3ES, Jakarta.
Potter, A. (1968). Opposition with a Capital "O", Yale University Press, New Haven and London.
Simon, R.(1999). Gramsci's Political Thought: An Introduction, Elecbook, London
Uhlin, A.(1998). Oposisi Berserak: Arus Deras Demokratisasi Gelombang Ketiga di Indonesia, Mizan, Bandung
Van Dijck, J., & Poell, T. (2013). Understanding Social Media Logic, Media and Communication, Vol. 1, Issue 1, hal. 2-14. https://doi.org/10.17645/mac.v1i1.70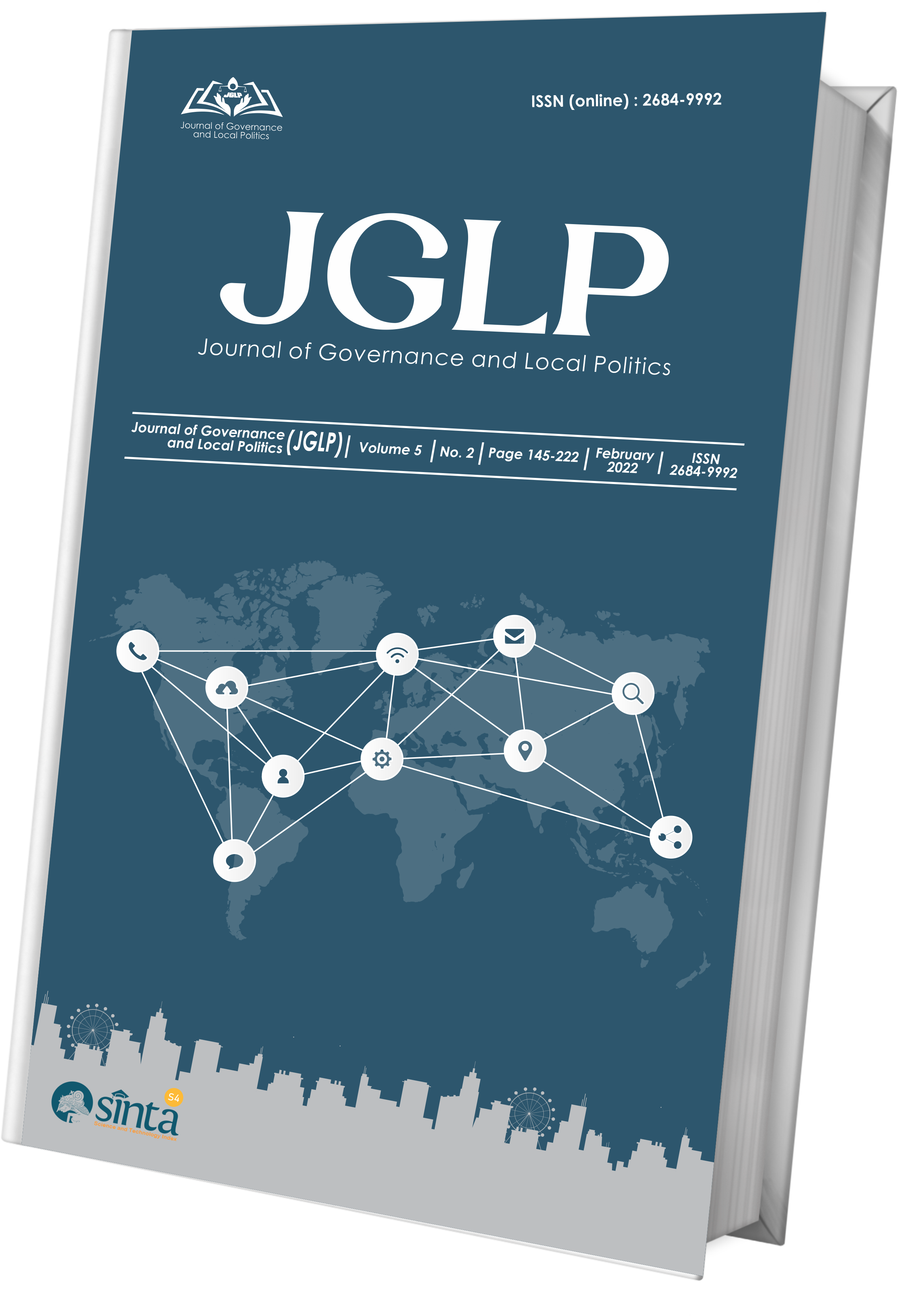 Copyright (c) 2022 Journal of Governance and Local Politics (JGLP)
This work is licensed under a Creative Commons Attribution-NonCommercial-NoDerivatives 4.0 International License.