Mengukur Kualitas Pelayanan Publik di Dinas Kependudukan dan Catatan Sipil Kabupaten Lombok Barat
Rifaid Rifaid

Universitas Muhammadiyah Mataram

M. Ulfatul Akbar Jafar

Universitas Muhammadiyah Mataram

M. Taufik Rachman

Universitas Muhammadiyah Mataram

Johan Natirius

Universitas Muhammadiyah Mataram
Keywords:
Quality Service, Public Service, Dukcapil
Abstract
This study aims to determine the quality of public services at the Dukcapil Service of West Lombok Regency. departing from the results of research using qualitative methods. Data collection techniques used interviews, observation and documentation. There are four things to measure the quality of public services at the Dukcapil Service in West Lombok, namely, Tangiabel, reliability, responsiveness, assurance, and empathy. The results show that the quality of public services in the Dukcapil West Lombok meets quality public service standards, with the fulfillment of service facilities according to community expectations and added commitment through regulations in the form of a Decree of the Head of the Population and Civil Registry Office in 2021 related to public service standards within the Dukcapil West Lombok. which regulates service mechanisms and procedures, guarantees time, costs, service culture and the availability of facilities for people with special needs (disabled).
References
Abdussamad, Jeriko. (2019). Kualitas Pelayanan Publik Di Kantor Dinas Kependudukan dan Catatan Sipil Kabupaten Gorontalo. PUBLIK: Jurnal Manajemen Sumber Daya Manusia, administrasi dan Pelayanan Publik Sekolah Tinggi Ilmu Administrasi Bina Taruna Gorontalo, Volume VI, Nomor 2 Desember 2019 . 73-82
Dwiyanto, A. (2014). Mewujudkan good governance melalui pelayanan publik. UGM PRESS.
Enggarani, N. S. (2016). Kualitas Pelayanan Publik dalam Perizinan di Pelayanan Terpadu Satu Pintu (PTSP) Kantor Badan Penanaman Modal dan Pelayanan Perizinan Terpadu (BPMP2T) Kabupaten Boyolali. Law and Justice, 1(1), 16-29.
Gerson, K. (2002). Moral dilemmas, moral strategies, and the transformation of gender: Lessons from two generations of work and family change. Gender & Society, 16(1), 8-28.
Hardiyansyah, H. (2018). Kualitas Pelayanan Publik: Konsep, Dimensi, Indikator dan Implementasinya. Gava Media.
Irawan, A. (2018). Transparansi Pelayanan Publik Pada Dinas Penanaman Modal Dan Pelayanan Terpadu Satu Pintu (DPMPTSP). MADANI Jurnal Politik Dan Sosial Kemasyarakatan, 10(3), 86-101
Laksana, Z. M. D. M. W. (2016). Membangun Kinerja Pelayanan Publik (Menuju Clean Goverment And Good Governance). Pustaka Setia Bandung
Lembaga Administrasi Negara (2007). Modul Manajemen Strategis Dalam Proses Akuntabilitas KinerjaInstasi Pemerintah. Jakarta. LAN
Moenir, H. A. S. (2003). Pengembangan Sumber Daya Manusia. Pustaka, Jakarta.
Supriyanto, D. F., Prabowo, S., Widodo, A. S., & Eldo, D. H. A. P. (2021). Analisis Kinerja Pelayanan Publik di Masa Pandemi (Studi Pelayanan Kartu Tanda Penduduk Elektronik (E-KTP) Kabupaten Karawang). Jurnal RAPIK, 1(1), 40-49.
Sumarwadji, Hafid; Sinring, Bahar; Mapparenta; Manulisi, R, Muhammad. (2021). Analisis Pengaruh Kualitas Pelayanan Publik Terhadap Kepuasan Masyarakat Pada Dinas Kependudukan dan Pencatatan Sipil Pemerintah Kabupaten Sinjai Provinsi Sulawesi Selatan. PARADOKS: Jurnal Ilmu Ekonomi, Volume 4, Nomor 3 Juli 2021. 594-602
Wiratno, W. (2020). Implementasi Peningkatan Kualitas Pelayanan Publik Pemerintah Daerah Kabupaten Bone, Sulawesi Selatan. Supremasi Hukum, 16(2), 1-23.
AdminLobar. (2015) https://lombokbaratkab.go.id/layanan-publik/kependudukan/ di akses 15 November pkl. 10.30 Wita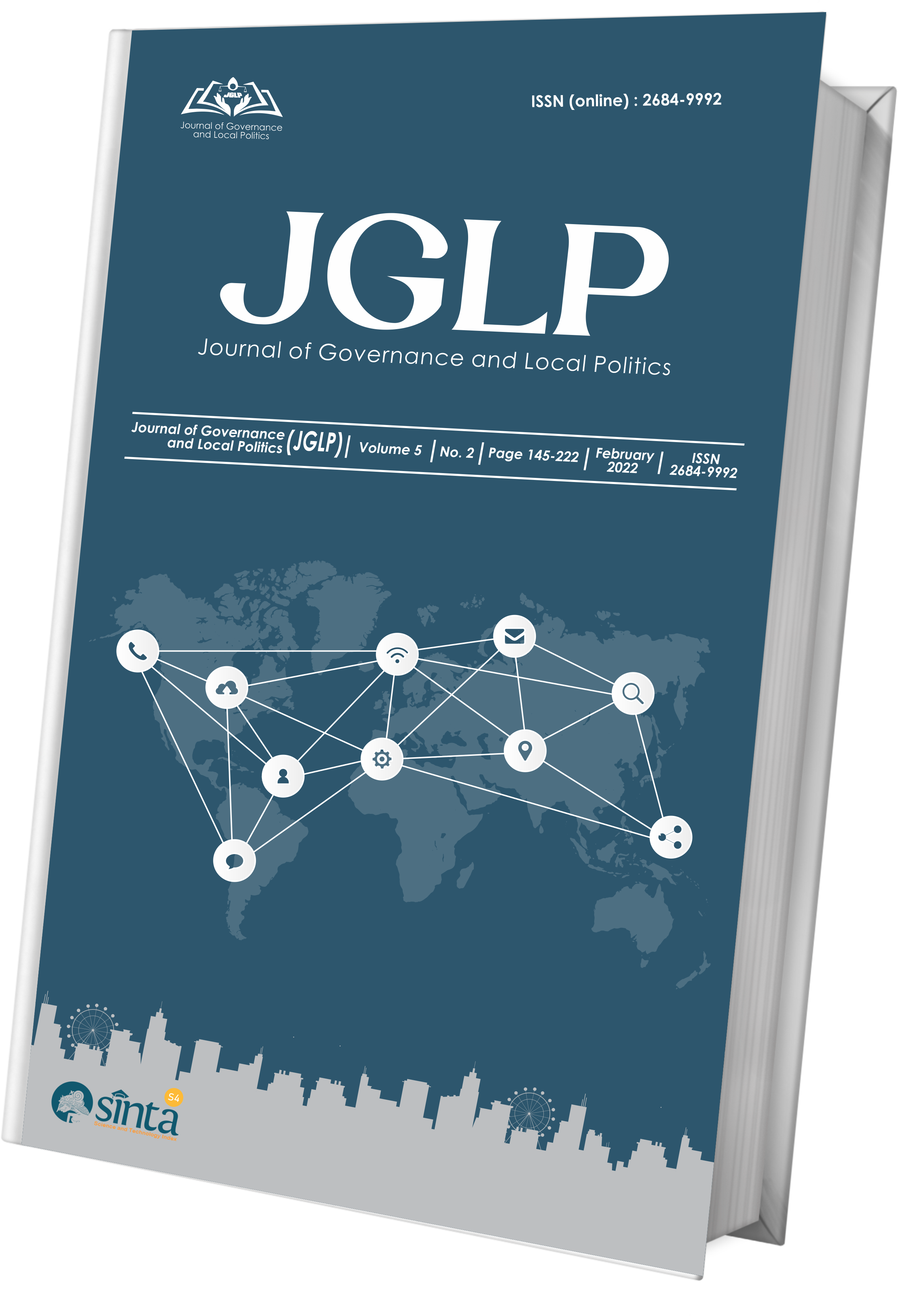 Copyright (c) 2022 Journal of Governance and Local Politics (JGLP)
This work is licensed under a Creative Commons Attribution-NonCommercial-NoDerivatives 4.0 International License.