Kebijakan Sinergitas R & D Pemerintah, Komunitas Epistemik, dan Sektor Swasta dalam Percepatan Kemandirian Industri Pertahanan
Endro Tri Susdarwono

Universitas Peradaban
Keywords:
Industri Pertahanan, Komunitas Epistemik, Pemerintah, Riset Dan Pengembangan, Sektor Swasta
Abstract
The purpose of this research is to discuss R&D synergy policies of government, epistemic community, and private sector in accelerating the independence of the Indonesian defense industry. This research is a qualitative research, the type of research uses a comprehensive analytical study and analytical normative approach. The government is aware of the importance of building national research capacity in defense technology. That awareness must be followed up with concrete policies, measurable results, and strategic cooperation with other national components. Human resources or researchers, academics, and innovators who are members of various research institutions are basically a "pool of knowledge" that studies and understands various aspects of the technology, managerial, and social-political industry of the defense, so that it is in an irreplaceable position as the driving force of the ideals of independence in the defense industry. Increasing the capability and mastery of defense industry technology must be done through research and development (R&D) and engineering activities. R&D activities are also an absolute requirement for defense independence and the ability to respond to the development of defense and security technology.
References
Al-Fadhat, Faris. (2019). Kerjasama Pertahanan Indonesia-Korea Selatan: KetahananMaritim Dan Transfer Teknologi Dalam Pengadaan Kapal Selam DSME 209/1400. Jurnal Ketahanan Nasional, 25(3), 373-392.
Buku Putih Pertahanan Indonesia Tahun. (2008) Departemen Pertahanan Republik Indonesia.
Buku Putih Pertahanan Indonesia Tahun. (2015) Kementerian Pertahanan Republik Indonesia.
Egam, Putra Prathama, Efendi Sihole, Dadang Gunawan. (2017). Analisis Manajemen Penelitian dan Pengembangan Rudal Petir Guna Mendukung Program Rudal Kementerian Pertahanan Republik Indonesia. Jurnal Prodi Manajemen Pertahanan, 3(2), 47-58.
Heidenkamp, H., Louth, J., dan Taylor, T. (2013). The Defense Industrial Triptych: Goverment as Customer, Sponsor and Regulator (Whitehall Paper 81 ed.). Abingdon, UK: Royal United Services Institute fo Defence.
Hidayat, Safril. (2015). Peningkatan SDM Pertahanan Indonesia Untuk Menghadapi Revolution in Military Affairs. Jurnal Pertahanan, 5(1), 45-56
Karim, Silmy. (2014). Membangun Kemandirian Industri Pertahanan Indonesia (p. 167-256). Jakarta : Kepustakaan Populer Gramedia.
Muradi. (2012). Dinamika Politik Pertahanan dan Keamanan : Memahami Masalah dan Kebijakan Politik Pertahanan Keamanan Era Reformasi (p. 56), Bandung : Widya Padjadjaran,.
Peraturan Presiden Nomor 42 Tahun 2010 Tentang Komite Kebijakan Industri Pertahanan (KKIP).
Peraturan Presiden Republik Indonesia Nomor 59 Tahun 2013 Tentang Organisasi, Tata Kerja dan Sekretariat KKIP.
Poerwowidagdo, Sapto J. (2014). Kuliah Introduksi Ekonomi Pertahanan Sesi 8 (pp. 4-20, , Senin, 3 Maret 2014.
Supriyatno, Makmur. (2014). Tentang Ilmu Pertahanan (pp. 32-37). Jakarta : Yayasan Pustaka Obor Indonesia.
Tim Penyusun Kementerian Pertahanan. (2015). Buku Putih Pertahanan Indonesia.Jakarta, DKI Jakarta, Indonesia: Pusat Komunikasi Publik Kementerian Pertahanan Republik Indonesia.
Undang-undang no. 18 tahun 2002 tentang Sistem Nasional Penelitian, Pengembangan dan Penerapan Ilmu Pengetahuan dan Teknologi.
Undang-Undang No.3 tahun 2002 tentang Pertahanan Negara.
Undang-Undang Nomor 16 Tahun 2012 Tentang Industri Pertahanan.
Yusgiantoro, Purnomo. (2014). Ekonomi Pertahanan : Teori dan Praktik (pp. 176-216). Jakarta: PT. Gramedia Pustaka Utama.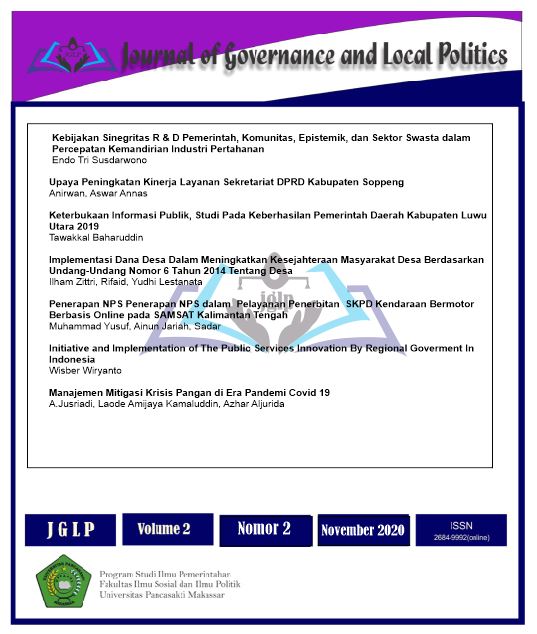 Copyright (c) 2020 Journal of Governance and Local Politics
This work is licensed under a Creative Commons Attribution-NonCommercial-NoDerivatives 4.0 International License.