The Relationship Maternal Activity In Taking Pregnant Women Classes With Reduced Risk Of Childbirth At The Pintu Padang Health Center
Miftahul Jannah

Departemen D4 Kebidanan, Institut Kesehatan Helvetia, Indonesia

Erlina Wanti Harahap

Departemen D4 Kebidanan, Institut Kesehatan Helvetia, Indonesia

Razia Begum Suroyo

Departemen D4 Kebidanan, Institut Kesehatan Helvetia, Indonesia
Keywords:
Activeness, reduction in risk of childbirth
Abstract
Berdasarkan data World Health Organization (WHO) tahun 2017, di dunia diperkirakan setiap menit wanita meninggal karena komplikasi yang terkait dengan kehamilan dan persalinan. Tujuan penelitian ini untuk mengetahui hubungan keaktifan ibu dalam mengikuti kelas ibu hamil dengan penurunan risiko persalinan di Puskesmas. Desain penelitian adalah penelitian survey analitik dengan pendekatan cross sectional. Populasi dalam penelitian ini adalah 54 ibu post partum pada bulan September-Oktober. Teknik pengambilan sampel menggunakan total sampling yaitu seluruh populasi dijadikan sampel sebanyak 54 responden. Analisis data menggunakan analisis univariat dan bivariat menggunakan uji chi-square. Hasil penelitian didapatkan bahwa terdapat hubungan Keaktifan ibu dalam mengikuti kelas ibu hamil dengan penurunan risiko persalinan di Puskesmas Pintu Padang tahun 2020 (p = 0,000 < 0,05). Disarankan agar tenaga kesehatan di Puskesmas untuk meningkatkan implementasi program puskesmas untuk memantau dan melakukan promosi kesehatan mengenai kelas ibu hamil.
References
Nurrizka Rh, saputra w. (2013) Arah dan strategi kebijakan penurunan angka kematian ibu (aki), angka kematian bayi (akb) dan angka kematian balita (akaba) di indonesia.

WHO. (2017) Managing complications in pregnancy and childbirth: a guide for midwives and doctors. World Health Organization.

Perempuan Kp. Profil anak indonesia (2018). Jakarta KPPA. 2018;

Dinkes, (2017). Profil kesehatan provinsi sumatera utara tahun 2017 [internet]. Sumatera utara; 2017. Available from: http://dinkes.sumutprov.go.id/common/upload/profilkesehatanprovinsisumaterautaratahun2017.pdf

Romauli S. (2011) Buku ajar asuhan kebidanan 1 konsep dasar asuhan kehamilan. Yogyakarta: Nuha Medika.
Indonesia DKR. Pedoman pelaksanaan kelas ibu hamil [internet]. Jakarta: departemen kesehatan ri; 2009. Available from: https://libportal.jica.go.jp/library/archive/indonesia/232i.pdf

Siti Rukmana P, Asi M. (2018) Hubungan keaktifan dalam kelas ibu hamil terhadap pengetahuan tentang kb pasca salin di puskesmas baula kecamatan baula kabupaten kolaka tahun 2018. Poltekkes kemenkes kendari.

Hasibuan A. (2018) Efektivitas kelas ibu hamil terhadap peningkatan pengetahuan ibu hamil tentang faktor risiko dalam kehamilan di wilayah kerja upt puskesmas semula jadi kota tanjungbalai tahun 2018. D4 kebidanan helvetia.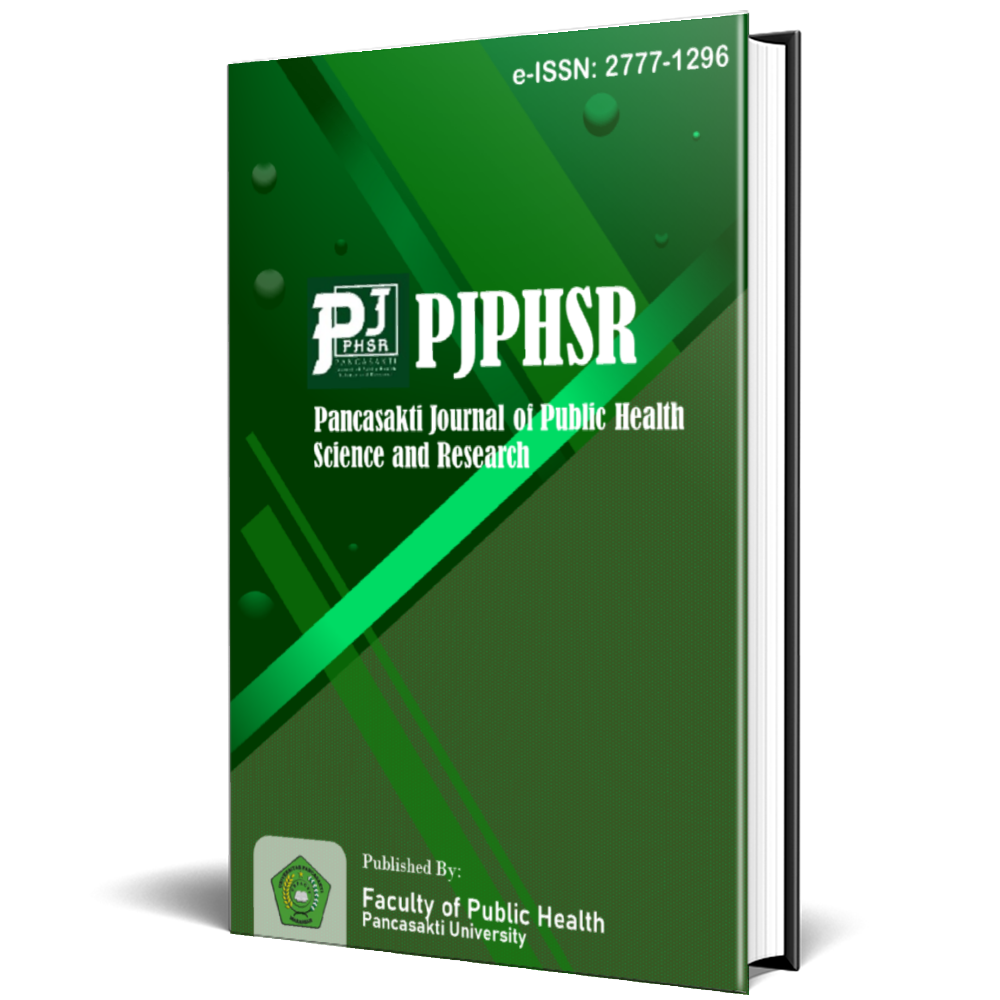 Copyright (c) 2021 Pancasakti Journal Of Public Health Science And Research
This work is licensed under a Creative Commons Attribution-NonCommercial-ShareAlike 4.0 International License.