Analisis Akuntabilitas dan Transparansi Pengelolaan APBDes di Desa Lembah Kecamatan Dolopo Kabupaten Madiun
Yusuf Adam Hilman

Universitas Muhammadiyah Ponorogo

Wakhidah Agustin Rahayu

Universitas Muhammadiyah Ponorogo
Keywords:
APBDES; Transparency; Accountable
Abstract
The management of the budget at the level of the village is an important thing because of a limited budget as a means of achieving welfare, But it should be noted that it needs to use measurements So that it can be known whether the management of we already have the by the regulations. This research is qualitative descriptive with an emphasis on depiction studies to answer the formulation of the problem at hand. The results of the study explained that indicators of the quality of accountability the management of APBDes lembah Village, Indicators include: accountability leadership, accountability process, accountability, and accountability policy program implemented in The village Lembah administration. In terms of interviews with informants that start over the formulation of management APBDes to accountability APBDes have included all society elements village, all criteria met.
Pengelolaan anggaran di level desa merupakan hal penting karena anggaran merupakan alat untuk mencapai kesejahteraan, namun perlu diperhatikan bahwa perlu adanya pengukuran terhadap penggunaannya, sehingga dapat diketahui apakah pengelolaan anggaran sudah sesuai dengan aturan. Penelitian ini menggunakan metode deskriptif kualitatif dengan penekanan pada penggambaran hasil kajian untuk menjawab rumusan masalah yang ada. Hasil penelitian menjelaskan bahwa indikator akuntabilitas pengelolaan APBDes Desa Lembah, indikator tersebut meliputi: akuntabilitas kepemimpinan, akuntabilitas proses, akuntabilitas program dan akuntabilitas kebijakan yang dilaksanakan Pemerintah Desa Lembah. Ditinjau dari hasil wawancara dengan informan bahwa mulai dari awal proses penyusunan APBDes sampai pertanggungjawaban pengelolaan APBDes sudah mengikutsertakan seluruh unsur masyarakat desa, semua kriteria terpenuhi.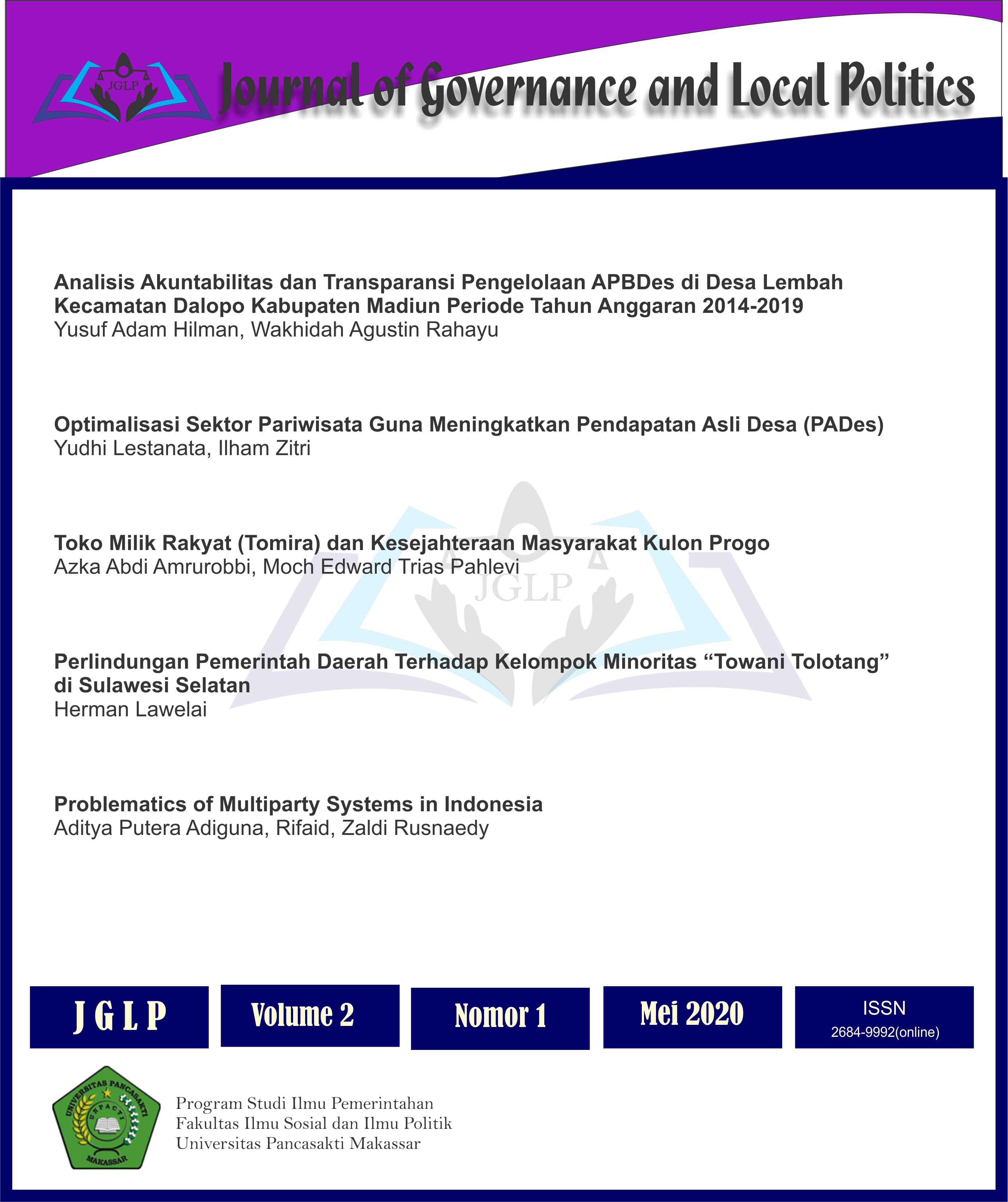 Copyright (c) 2020 Journal of Governance and Local Politics
This work is licensed under a Creative Commons Attribution-NonCommercial-NoDerivatives 4.0 International License.