Perlindungan Pemerintah Daerah Terhadap Kelompok Minoritas "Towani Tolotang" di Sulawesi Selatan
Herman Lawelai

Universitas Muhammadiyah Buton
Keywords:
Pemerintah Daerah, Kelompok Minoritas, Towani Tolotang
Abstract
This article describes the efforts of the regional government to protect the Towani Tolotang people as a minority group in fighting for their identity, the argumentation of justice and group rights in the midst of a pluralistic culture. This article is analyzed with; historical agreements, equal rights, and cultural diversity. Using qualitative research methods, this study found that until now the minority group "Towani Tolotang" still exists in cultural practices as well as in social interactions with the wider community. Relations between communities are supported by local government policy by providing forums that embrace interfaith community leaders, security forces and government elements in fostering community.
Artikel ini menggambarkan upaya pemerintah daerah untuk melindungi masyarakat Towani Tolotang sebagai kelompok minoritas dalam memperjuangkan identitas mereka, argumentasi keadilan dan hak-hak kelompok di tengah-tengah budaya pluralistik. Artikel ini dianalisis dengan; perjanjian sejarah, persamaan hak, dan keanekaragaman budaya. Menggunakan metode penelitian kualitatif, penelitian ini menemukan bahwa sampai sekarang kelompok minoritas "Towani Tolotang" masih ada dalam praktik budaya serta dalam interaksi sosial dengan masyarakat luas. Hubungan antar masyarakat didukung oleh kebijakan pemerintah daerah dengan menyediakan forum yang merangkul tokoh masyarakat lintas agama, pasukan keamanan dan elemen pemerintah dalam membina masyarakat.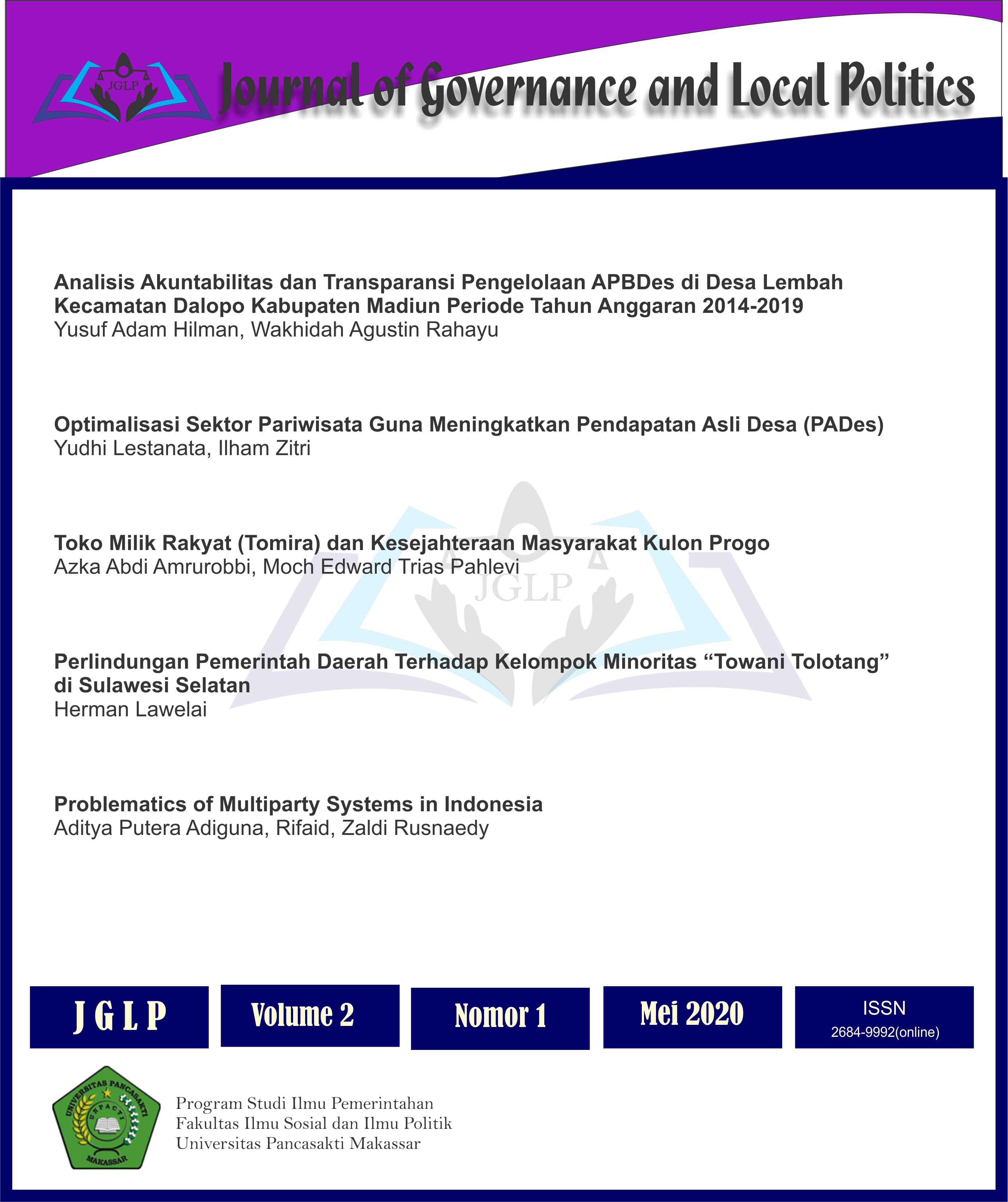 Copyright (c) 2020 Journal of Governance and Local Politics
This work is licensed under a Creative Commons Attribution-NonCommercial-NoDerivatives 4.0 International License.