Optimalisasi Sektor Pariwisata Pulau Kenawa Guna Meningkatan Pendapatan Asli Desa (PADes)
Yudhi Lestanata

Universitas Muhammadiyah Mataram

Ilham Zitri

Universitas Muhammadiyah Mataram
Keywords:
Optimalisasi, Pariwisata, Pendapatan Asli Dasa, Optimization, Tourism, Original Village Income
Abstract
Human life is highly dependent on natural resources. It is the main and fundamental capital to meet the needs of human life. In this regard, optimizing the use of natural resources must be achieved by considering the potential aspects, conformity sustainability, and consistency, of the benefits to realize its sustainability. To achieve this optimization required the maintenance action at the point of normal balance. This study aims to find out how the role of Local Government in optimizing the potential of tourism in Kenawa Island and what are the factors inhibiting the optimization of tourism potential in Kenawa Island. This type of research is qualitative descriptive, taking the location in Poto Tano Village Poto Tano Sub-district, West Sumbawa Regency, data source in this research is primary data and secondary data. Based on the results of the research indicates that the optimization efforts undertaken by the Regional Government in developing the tourism potential of Kenawa Island are with community participation, environmental carrying capacity, promotion, the involvement of all stakeholder, local ownership involvement, resource utilization continues, accommodating community aspirations, monitoring and program evaluation, environmental accountability, community training.
Kehidupan manusia sangat tergantung pada sumber daya alam. Sumber daya alam merupakan modal utama dan fundamental untuk memenuhi kebutuhan kehidupan umat manusia. Berkaitan dengan hal tersebut, maka optimalisasi penggunaan sumber daya alam harus dicapai dengan mempertimbangkan aspek potensi, kesesuaian, kelestarian dan konsistensi manfaat untuk mewujudkan keberlanjutannya. Untuk mencapai optimalisasi ini diperlukan adanya tindakan pemeliharaan pada titik keseimbangan yang normal. Penelitian ini bertujuan untuk mengetahui bagaimana peran Pemerintah Daerah dalam mengoptimalisasikan potensi wisata di Pulau Kenawa serta apa saja yang menjadi faktor penghambat dalam optimalisasi potensi wisata di Pulau Kenawa. Jenis penelitian ini adalah deskriftif kualitatif, mengambil lokasi di Desa Poto Tano Kecamatan Poto Tano Kabupaten Sumbawa Barat, sumber data dalam penelitian ini adalah data primer dan data sekunder. Berdasarkan hasil penelitian menunjukkan bahwa upaya optimalisasi yang dilakukan oleh Pemerintah Daerah dalam mengembangkan potensi wisata Pulau Kenawa adalah dengan partisipasi masyarakat, daya dukung lingkungan, promosi, keterlibatan segenap pemangku kepentingan, keterlibatan kepemilikan lokal, pemanfaatan sumber daya berlanjut, mengakomodasi aspirasi masyarakat, monitor dan evaluasi program, akuntabilitas lingkungan, pelatihan pada masyarakat.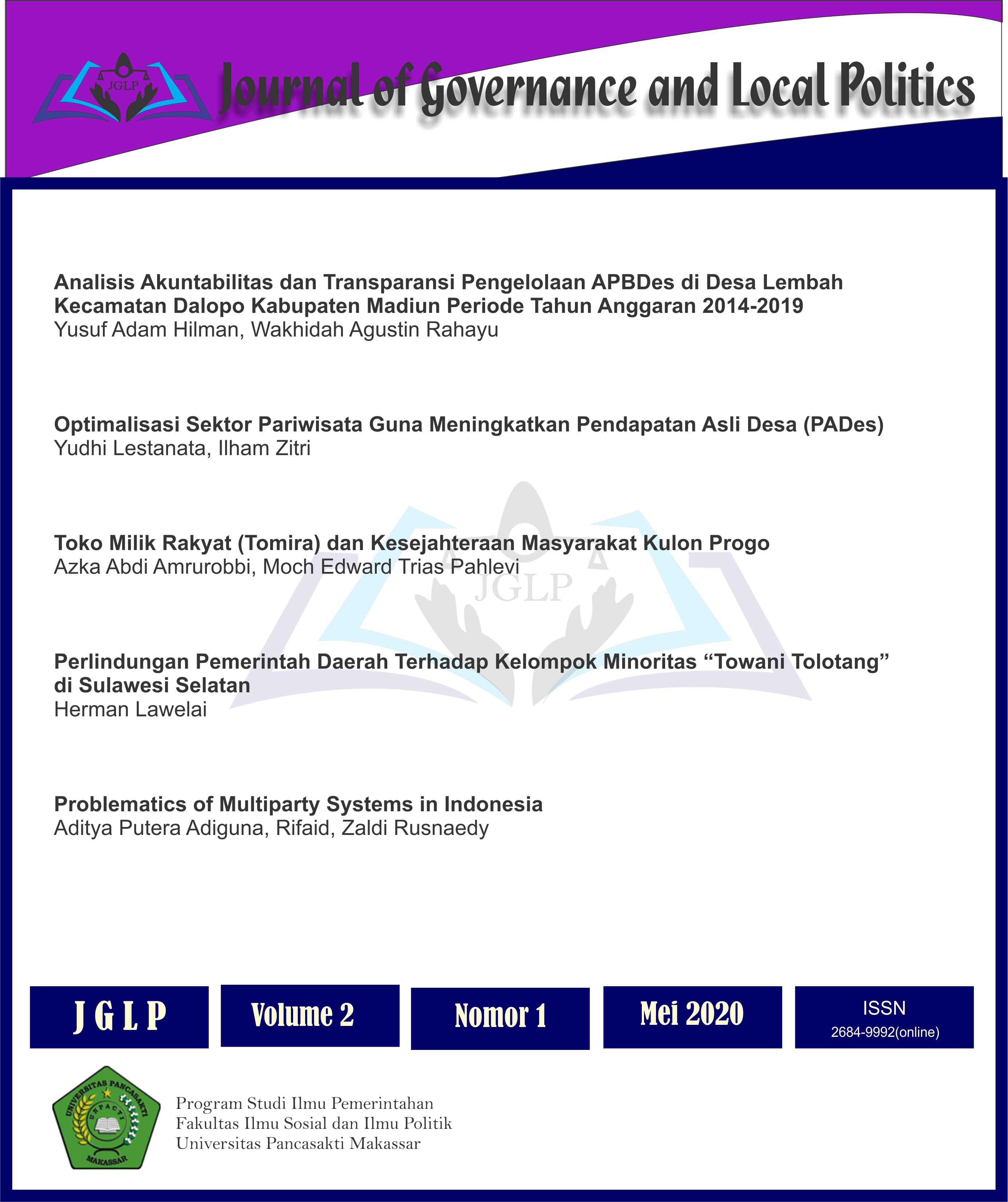 Copyright (c) 2020 Journal of Governance and Local Politics
This work is licensed under a Creative Commons Attribution-NonCommercial-NoDerivatives 4.0 International License.